Attention:
We are not only warning against the companies and persons mentioned by name. It can be assumed that the perpetrators will continue the same fraud pattern under other names and fake identities. Therefore, read the general characteristics of this fraud pattern at the end of the article to protect yourself from analogue attacks!
"Dellenbach", "Astoria International" and "Dr. Josef Rogel", "London Financial Services".
A Mr "Dellenbach" made telephone contact with a client in May 2022 on the purported behalf of "Astoria International". Astoria International is a US company based at 40 Wall Street in New York. Dellenbach knew that our client was a shareholder of the now liquidated Aximus AG and also how many shares he owned, which made Dellenbach seem initiated and trustworthy to him. The perpetrators obtained this data from an accomplice, presumably from Switzerland, or hacked data.
During this telephone call, Dellenbach announced his intention to buy all the shares in Aximus AG. However, this would only be possible if a certain number of shares were held; in order for the purchase to take place, the client would have to acquire a further 10,000 shares. This he did, via "London Financial Services". This company then confirmed the receipt of the purchase price at Railsbank and internally "credited" him the share value of € 84,000.
Some time later, our client received a takeover agreement from "Astoria International". It was mentioned that there were still 21,000 Aximus shares available and that they could be bought. He also bought them, naturally against a corresponding transfer. Shortly afterwards, a guarantee of 35% was demanded for USA "AML guaranty, supposedly a security deposit with the American anti-money laundering authority.
Shortly afterwards, our client was called by a Mr. "Kellermann" on behalf of Railsbank. Mr Kellermann had managed to get the client to pay only one third. A few days later he was informed that this had not worked after all and that he would have to pay more.
On 16.09.2022 he was told that the payment would be made on 19.09.2022. This was not the case, so on 22.09 "Dr Josef Rogel" contacted our client by telephone on behalf of London Financial Services. Dr. Josef Rogel said that the shares may not remain with the company and that the client would receive the share value of € 107′ 000 free of charge, which would, however, lead to a new necessary deposit. The shares still had to be distributed, which is why there was a delay.
Later, our client was asked to provide publicly confirmed proof that he was living and paying taxes at the specified place of residence. Shortly afterwards, it was offered to make the transaction by gift in order to avoid taxes.
On 15.12.22, the fraudsters informed the client in a "statement" that his balance was EUR 722,853. The customer's advance payments up to that point amounted to € 304,068.84. The customer did not receive the payout.
All procedures were supported by documents that appeared genuine at first glance, but on closer examination all proved to be worthless or forged. The client's payments went to different banks in the UK, Slovakia and Croatia after some time.
Appropriation of existing company names and deception, misuse of data
The domicile of Astoria International (Dellenbach) is at the address where the Trump Building actually stands. No such company exists there, but an "Astoria International Ltd." is domiciled in England.
The fraudsters use the company name "London Financial Services". In fact, there is such a company, namely "London Financial Services Ltd." with its registered office in Manchester, England. However, this Ltd. has a different company number than the scammers have given. Tomas Mackovik (German citizen) is given as the director.
On the website of the perpetrators, however, the address and company number of a Financial Services London Ltd. are used. Its director is Michael Choi. Choi is also active as a director in several companies. This website has not been in operation since 20.02.23. We include screenshots and text here: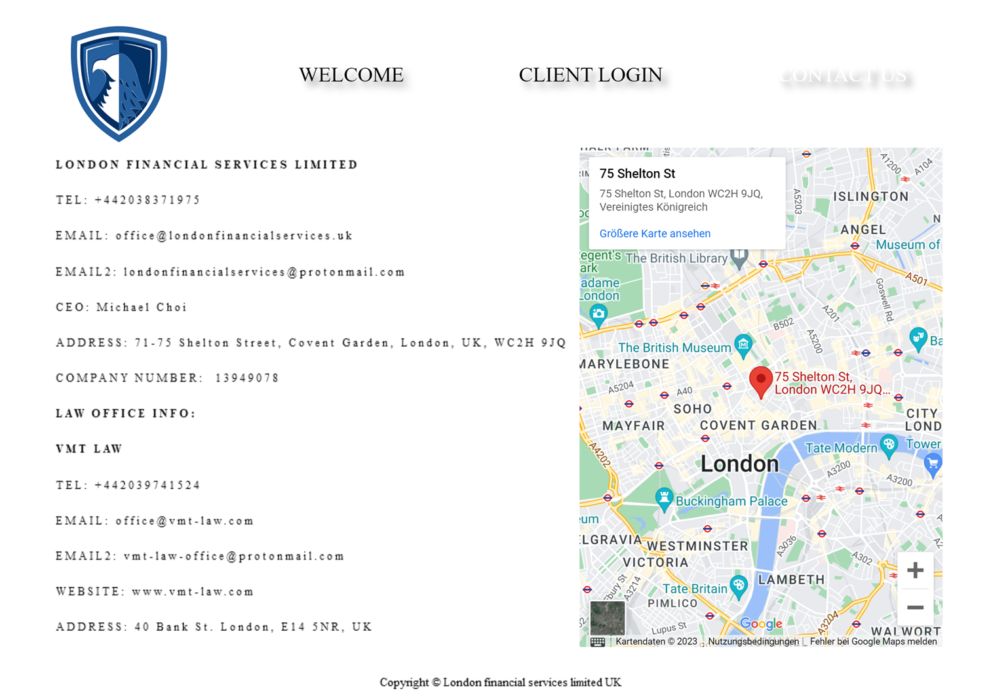 Excerpts: "For more than 30 years, we have been providing smart, creative mortgage, investment and bridging finance solutions for freelancers and business leaders. We are specialists in complex/multiple income structures. We established our business in 1989 with the aim of helping freelancers and high/complex income earners with all their credit needs. The partners have been actively involved in financial services and real estate since 1990."
No names are mentioned on the page. There is a contradiction between "established in 1989" and the Certifacate of Incorporation of the real "Finacial Services London Ltd" dated 2022.
On a subpage of the scammers' web presence, one could call up bank logins. This is cheap because anyone can use a link to the logins of banks. It suggests an apparent close cooperation with these banks. It could also be misused to siphon off customer data.
The misuse of data of existing companies plus the variation in the company name are not immediately noticeable to the well-meaning business partner and random enquiries in the commercial register lead to actually existing companies. How far these are accomplices or also victims is currently being clarified.
It remains open how the fraudsters got hold of our client's contact details and how he knew how many Aximus shares he had actually acquired when the company still existed. Such details are not publicly disclosed in Switzerland. It seems likely that the fraudsters had accomplices from the Aximus AG environment or had access to hacked data. In any case, it seems strange that all the persons who contacted the client spoke High German – and thus the same language as, among others, Tomas Mackovik, Director of the real London Financial Services Ltd.
There are no references to Dr. Josef Rogel on the internet. It is a pseudonym or a false identity. There are apparently no indications of fraud in connection with London Financial Services Ltd. either.
Criminal proceedings have been filed for fraud in the UK and Switzerland as well as in the other countries to which the deposited funds flowed. For example, for aiding and abetting money laundering against National Westminster Bank, London, Lyoyds Bank, London, Unit Credit Bank, Bratislava, Slovakia, Ceckoslovenska Obchodna Bank, Bratislava Slovakia, Raiffeisenbank, Zagreb, Croatia.
The fraud pattern
Extreme caution would be advisable if you receive messages from persons claiming to be the following names:
Mr Dellenbach, Astoria International
Mr Kellermann, Railsbank
Dr Josef Rogel, London Financial Services
Michael Choi, Financial Services Ltd.
Tomas Mackovik, London Financial Services Ltd.
But this is unlikely. The fraudsters have already folded their tents and will make their next attempts under other names. Therefore, be careful if you encounter the following pattern:
contact from people who give accurate information about you or your (former) business,
at the same time make credible business proposals that appear to be financially lucrative for you,
make statements about companies, websites, etc. that at first glance appear to be accurate,
people you cannot call back by telephone (telephone spoofing: Internet telephony with fake, alleged callback numbers),
who repeatedly demand advance payments with superficially credible justifications.
The general advice is that you should not get involved in such advances at all. However, some of the characteristics also occur with serious business partners. For example, lawyers and other service providers also demand advance payments. Acquirers for serious business may also contact you without being asked. However, always insist on verifiable proof of identity (check companies in the commercial register, ask for copies of passports, etc.) or commission professional investigators to check before taking any further steps.
Experiences with Dellenbach, Astoria International and Dr. Josef Rogel, London Financial Services?
Do you have information about these individuals? Have you also been contacted or victimised? Have you experienced a fraud of the same pattern but with different names and companies? Please contact us. If you wish, we will keep your information strictly confidential.
London Financial Services, Astoria International, "Dellenbach", "Astoria International", "Dr. Josef Rogel" notices or analogue fraud patterns