Ralph Peter Junker – Business & Condemnations Switzerland
Ralph Peter Junker was domiciled in Switzerland until 2021. He operated the company ALFASOL AG (in liquidation December 2020) in Altendorf. At the same time he liquidated Juwal AG, Oetelfinge . Earlier companies, which all ended in liquidation, were: Marx AG, Gebäudehüllen, Muttenz; CIP Holding AG, Altendorf, Einzelfirma Junker, Engineering. FFSM Holding AG, Berne. It is documented that Junker received very high incomes.
By mid-2023, there were several civil and criminal proceedings and now final Condemnations, which resulted in high alimony and other payments, among other things.
It appears that Junker left Switzerland because of this. For a short time, he was registered in Friedrichsdorf, Germany. From there he deregistered "to Saudi Arabia".
Junker's own view of fairness & law
Junker does not cooperate with public prosecutors or the courts. He appeared at a hearing for the last time in 2019. He does not pay. He ridicules creditors. When things get tight, he withdraws from companies / mandates, or liquidates them. He changes his place of residence and tries to cover up traces. He even claims to be penniless.Judgements do not interest him, he even claims that they are not legally binding (knowing that this is not true).
Junker in Dubai, Permagreen Project Management LLC
In reality, Junker had not left for Saudi Arabia, but for Dubai. On his LinkedIn profile  he gives "Middle East" as his location. He operates Permagreen Project Management LLC in Dubai and gives "Switzerland" and "United Arab Emirates" as locations, but does not show an imprint.
Junker's standard of living does not indicate that he would be penniless
His current partner is Sarah Badrh, who works in upscale interior decoration. The telephone number – an imprint is also missing here – has the area code +971, United Arab Emirates.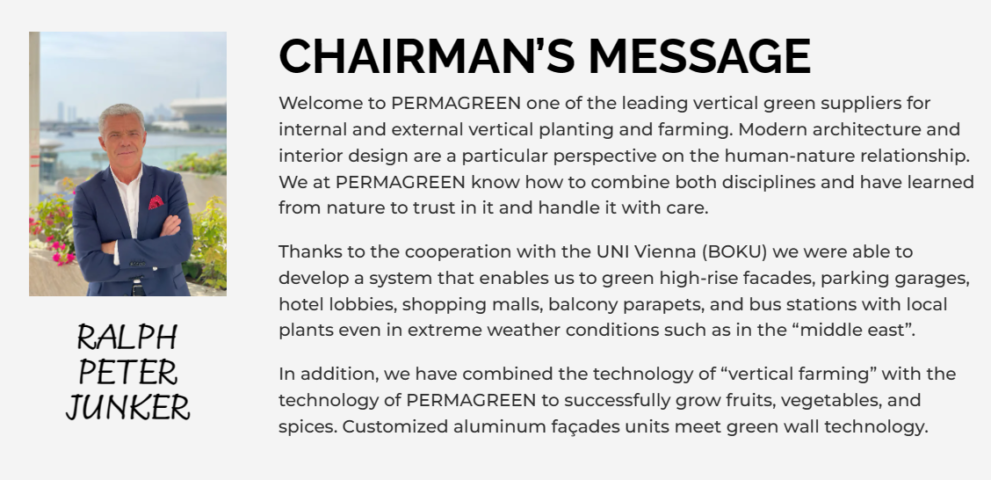 Source: Homepage Permagreen Project Management LLC
Experiences with Ralph Junker?
We do not advise against doing business with Ralph Junker or Permagreen Project Management LLC and report facts without exception. Do you have experience with Ralph Peter Junker, Permagreen.com or Sarah Badrh? If so, please provide us with information, which we will of course treat confidentially.